12 avril 2019
What about Australian beaches?
This is the last articale you will read on this blog. I will speak about a story I had lived on australian beaches.
I remember that one time I have been to an incedible beach for a birthday. It was absolutly beautiful because this day I saw a lot of different species of fish and I loved to watch them, it was incredible! The same day, my uncle start runing after my cousin and never really stoped until this day. All of my family was there and liked this moment, particularly when the sun started to be really hot and forced every one to go swim in the water... All of those good moments makes me nostalgic... But after all, it's not that bad to remember old memoryes... Anyway, let's give you more precisions. Me and my family have been to the beach called Whitehaven at 9 am. We were all waked up at 7 am. Almost every one didn't slept because we were to exited! When we arrived, I remember that I felt like a great heat when started swiming. It was really nice to feel all of my skin becoming hotest second, after second. During a few hour it was beautiful and after the hour it becamed magic. But I already talled you this part. But... After it, we did stayed in the water and layed all the afternoon. And at 7 pm we went back home for preparing the birthday party of my grandpa. But I prefer to do not relate what happened that night... It's preferable!
After that you read all of this, I have only one thing to say...
See ya :-)
11 avril 2019
What about Softball?
The softball is an appreciate sport in Australia. The Softball is a variant of baseball, it has been invented in 1887 at Chicago, in United States ,as an indoor game.
I have never try this sport, but I am sure it's really interesting! One time, my oncle talled me he bet on a team during a match and he won a lot of money and bought his last car with it! I surched on internet and this situations happen mostly in the countrys where the other sports are the favorites because if to much people bet, the profits will be lower than if a lot of people bet. Anyway!
The softball is really a nice game, I think... Even if I don't know a lot of things about this sport... But, it's still a sport who is like by my family since a lot of generations, so I think I am gonna learn how does this sport works...
Let's pass to the next things of australia!

05 avril 2019
What about Russel Crow?
We have EXELLENT actors to!
Look at this interview made in UK:
"Now, we are gonna a famous actor! He come from Australia and has already been a slave, a general and, as I already said, an actor! Please, come darling!
Hello everyone.
Hello my dear! do you prefer "Mister Crow" or the Spanish?
Mister Crow, it's perfect.
Okay Mister Crow! So what do you think about the movie director Ridley Scott?
Sorry, but every person with who I works asks me to do not speak of those kinds of things.
Ok so... was it fun to appear in the movie gladiator?
Yes it was really funny, we have been to a lot of places and countries like Morocco or in born wood, in UK.
Did you learned anything during the filming of "Gladiator"?
Not really... But it was pretty funny!
okay ...Sorry but I forgot to watch the clock and now it's time for the next programme. Thanks darling to have been here and sorry for this missing of time."
There was better things to show you but... After all ... This is a good and short thing to show you.Let's see the next things...
What about Platypus?
The platypus is an animal that we can only found in australia (lucky us!).
The platypus is a semiaquatic mammal the unusual appearance of this cutty animal makes his repitation. The platypus is duck-billed,beaver-tailed, otter-footed, it's one of the few species of venomous mammals.
Isn't this the cutest animal of the WORLD?!
Seriously, do you know a lot of animals that are the main characters of a cartoon? NO! I really think the plarypus is the best anilal ever! (This mince that Australia is the country where we can find the best animal ever!) (So Australia is the best country ever!).
I was speaking about a main character who have his own cartoon...
SURE the cartoon is named phineas and ferb... But, who care about humans? Yesterday, there was a convention on the platypus and its fictions! When I arrived there I saw him !Perry the platypus! Of corse, I know that he is not real and all of those stupidities, but still he is cool and... HE IS A PLATYPUS! If I wasn't an Aussie, I am not sure my life would be the same... Without platypus, Australia would be a great desert... IT WOULD BE BORING !
STILL! This is an animal who you can find ONLY IN AUSTRALIA! Like the next things...
03 avril 2019
Australia
You wanna see more about Australia? Do you know who is Russel Crowe? And what about platypus?
You see, Australia is more interesting than what you though!

In australia we have everything! :
Magic places

Beautiful animals

Fantastic actors

sports absolutly crazy

amazing city
If I had to resume, I would say that australia is one of the best country of the whole world without any hesitation!
Now that you read this LITTLE introduction, let's show you the most important thing of this blog:
01 avril 2019
What about Melbourne?
Melbourne is the second urban aglomeration of Australia after Sydney. The "Great Melbourne" counted 4 440 300 residents at the official census of 2014. I am not sure but if my memory is not to bad... My stepfather lived there during some years. He has past a lot of time on Melbourne's beaches.
I has never been there during more than a single week of sunny holiday. During those days (always to short) I've been to the beach, to the cinema, carting races and other funny activities. One time, a wave of one 3 meters at the minimum breaked on me and my stepbrother! This day was really magic... And every time I've been there with my wife, my stepfather was little to lazy to cook so he brought us to the restaurents and each time I do take exellent things like burgers, meet, french fries...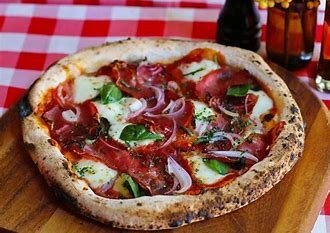 This is the menu I had during lunchs the october 2009. It was really exellent! But I don't know if they do every kind of food... If it's the case I'll bring bear's meet! I have always dreamed to taste it. Seriously, did you ever taste a food like the pictures that are just upstair this paragraph? I hope it will always be perfect that much... Australia is really the better country with the best things of the whole world! Better than all America, Europe, Asia, Africa and all this staff...